The Search is Over and I Found it in a Cup!
I have been searching for good Malaysian style satay ever since I came back in November and it has been pretty disappointing. I was even served meat that went bad at one point and I ended up with a huge phobia of satay after that. Well you guys know how I went for Umrah recently right? Well, while I was in Taif for an overnight visit I met someone who shared my passion about satay and food. It was dinner time and I happen to choose this one table where this couple was sitting. We started talking and when the lady saw my Mum she said, "Oh my God, I know you! You used to come to my restaurant all the time. I have a restaurant called Serai (lemon grass) in Shah Alam." Well it turns out that my Mum and her former colleagues did use to eat at her restaurant almost every day. Mum doesn't work anymore and she's hardly in that area so she doesn't eat there these days. But what a small world right?
The lady, I'll refer to her as Aunty Rina, has been in the food business for a very very long time. Serai is a popular Thai restaurant in Shah Alam and I remember going there as a kid. So I asked her what it's like being the restaurant industry because I do have dreams of starting my own café / restaurant some day. She told me that it's important to hire good and trustworthy staff. She still has the same chef of 20 years working for her restaurant, Serai. She then told me she has opened a satay food outlet at Pavillion's food court. Pavillion is one of the biggest shopping malls in Kuala Lumpur city centre. She also said that I had to try her satay and let her know what I thought of them.
Since Aunty Rina and her husband is such a lovely and warm couple I thought I'd actually try out the satay. My friend, Ella Bella and I decided to go Pavillion just recently and it has a huge food court which makes it really hard to choose what to eat over there! Well I knew what I wanted obviously, so we went and looked for Aunty Rina's
Serai Satay Bar
. We walked around until we saw this...
We found it near the Turkish stall almost opposite the Japanese dessert restaurant (I don't remember what it's called). So I went over to the counter and had a look at their menu. They have different satay sets... I chose the Set D as it consisted of beef, chicken and mutton satay. Serai Satay Bar also serves other types of Malay food such as Soto Ayam (chicken soup with cubed rice or vermicelli noodle), keropok lekor (Malaysian fish sausage, I know it sounds strange but it's a type of snack and it doesn't taste as strange as it sounds), nasi kukus (steamed rice) just to name the few that I can remember at the top of my head.
The satay guy made it there and then as I can actually watch him grill the meat behind the glass barrier. It didn't take very long. I had the satay and all I can say is... I'm so happy I found some good quality and edible satay!! Firstly, it surprised me as it came in a large purple paper cup which kind of reminded of Barney. I had never seen satay served in a paper cup before so I thought it was pretty clever and unique as it makes for easy food-on-the-go. I have to say I like the chicken satay the most. It was juicy and tasty which is good because the worst thing a satay can be is dry and chewy. My second favourite was the beef as it was well marinated, then the mutton. While the mutton satay wasn't too bad I thought it could've been chunkier. I really liked the Serai Satay Bar's peanut sauce which is a must-have with any satay! It wasn't too spicy and I like it like that because I can't eat spicy food as it makes me want to cry, really it does. A little bit of chilli is fine but knowing Malaysians, they tend to loooove their chilli. So yes, I was pleased with the chunky and flavoursome peanut sauce. Ella Bella noticed how the skewered cubed rice, onions and cucumber pieces were tidily-presented (typical of Ella the Architect, always noticing the artsy stuff). I especially liked the décor which gave a modern twist to traditional Malay food and also added an instant coolness and sophistication to the ambience. So top marks to Serai Satay Bar for awesome presentation!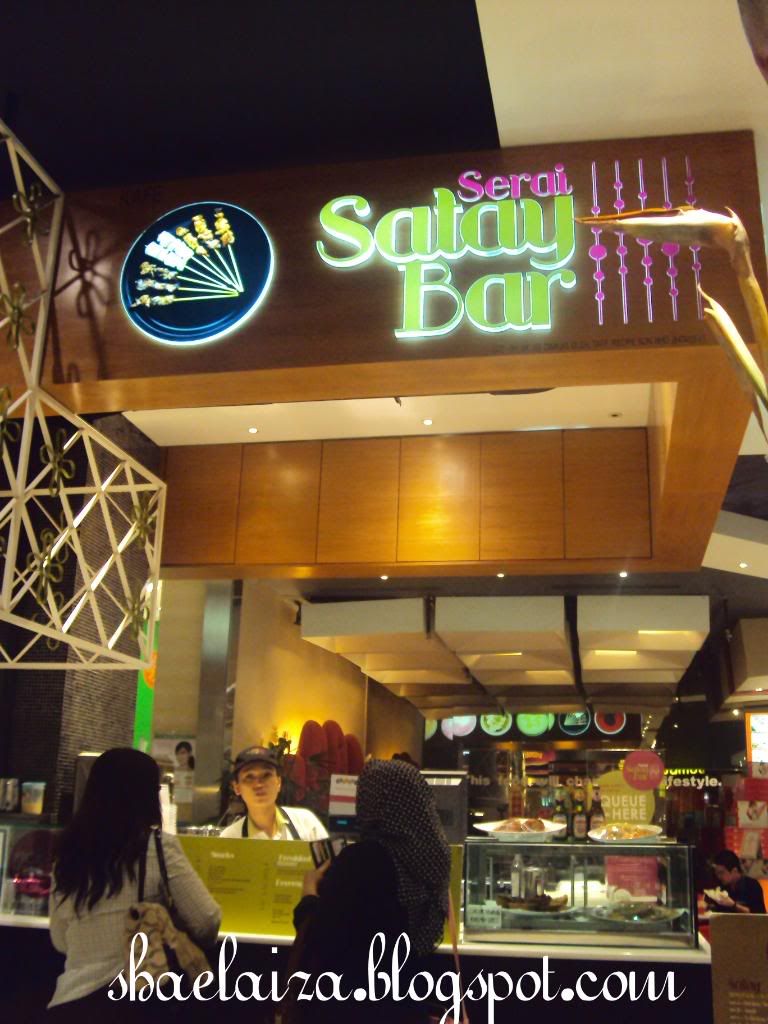 Satay in a cup (Is it just me... but doesn't this remind you of Barney?)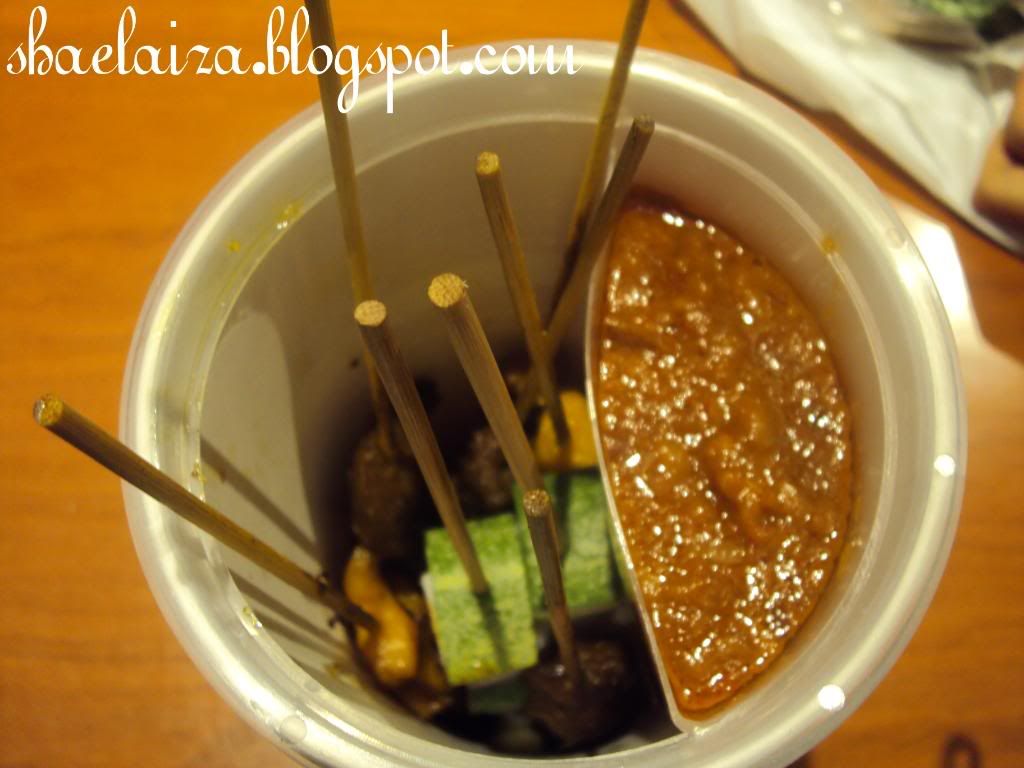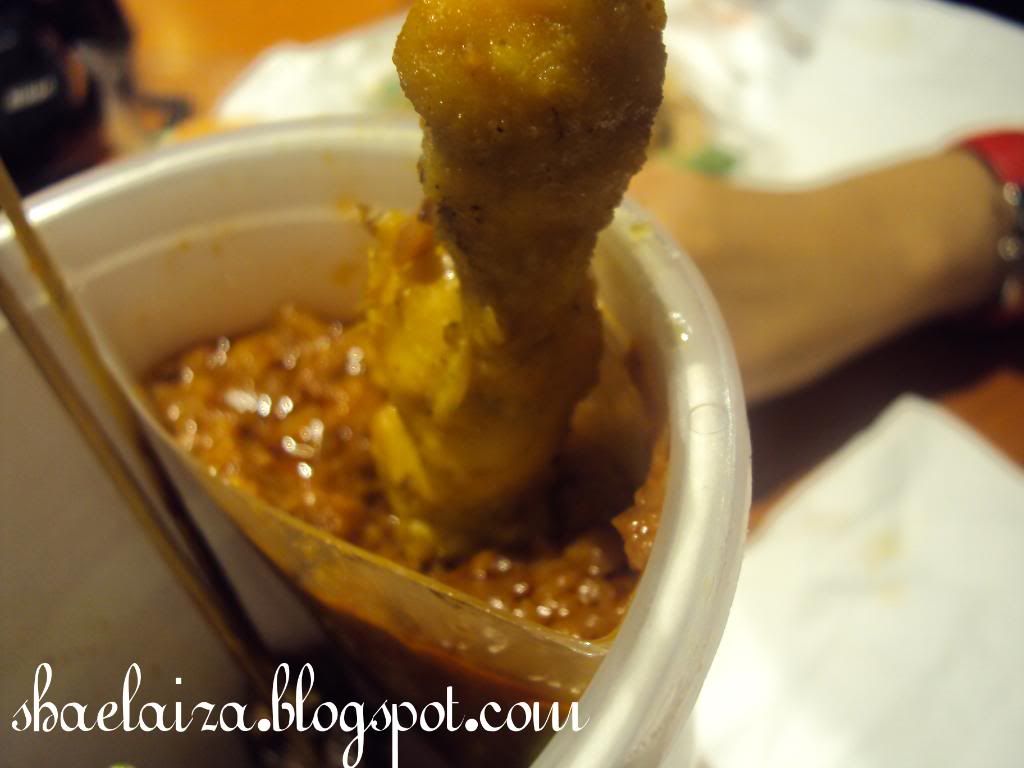 Peanut sauce.... mmmm

My apologies for the lack of photos. One of the staff kept looking over at our table because I think he has a small crush on Ella Bella ;) so we felt a little embarassed about taking lots of photos. This place is so good that they even have their own Facebook page and a couple of online food reviews to boot. So to make up for what's lacking in my review do check out Serai Satay Bar's Facebook page or website for more photos and details.
If you're a satay fan or if you're ever in Pavillion and feel like having a quick Malaysian snack, drop by this one of a kind food spot and try something new!