Interracial Marriages
One of the topics I usually debate with my mum is about interracial marriages. She said she has lived long enough to see so many unsuccessful interracial marriages and thinks I live in lala land where everything always turns out beautifully and two people from different cultures can live happily ever after. Okay, I've seen interracial marriages work but I know they are tricky and require a bit more effort because of cultural and/or religious differences but of course I have to give my Mum some credit as honestly, I do see her point. Our family relatives and friends who have chosen to marry outside the Malay culture (usually with Caucasian or European men) often end up divorced. Yup, even the 'modern' Malays who are very Western and less religious. It made me think, "What went wrong?".
Recently a local newspaper featured an article on its cover page about this very issue. The Malaysian Minister of Information, Dato' Seri Dr. Rais Yatim, advised Malay celebrities and Malay women generally to think 'thousands of times' before marrying men outside their culture, especially Caucasian men as studies have shown that only 3 out of 10 interracial marriages are bound to work out. The most recent shocking news for me is Maya Karin's separation from her British-born Italian husband, David Shorthose @ Muhammad Ali. No, they're not divorced but she has admitted that they don't live together at the moment.
For those who don't know who Maya Karin Roelcke and David Shorthose @ Muhammad Ali are, let me give you a little 101 based on what I know so far. Maya Karin is a famous and glamourous Malaysian celebrity who is half Malay and half German. She's a model, actress, tv host, you name it. David @ Muhammad Ali is a mathematics teacher at an international school here in Kuala Lumpur. They've known each other since 2001, he became a Muslim in 2004 and they married in 2008. It was only yesterday that local newspapers reported Maya Karin admits her marriage is going through a rough patch but they're not divorced and are still trying to sort things out. She also expressed that she still loves her husband and hopes that their marriage can still be salvaged.
This isn't the first time I've heard of a couple who's known each other for years but after getting married things start to get shaky. I know marriage isn't easy and it's definitely no la la land. But surely all those years must have shown some indicators of possible problems that could crop up.
Do couples simply ignore them when they're swept away by romance? Or do things change after marriage? If so, what?
I for one think that marriage is not something that can be taken lightly no matter who it involves, celebrity or non celebrity and may it be interracial or not. However my Mum says that it's always 'easier' when it doesn't involve someone from a different culture. I say it all goes back to values, especially ones regarding family and religion. If two people and their families share similar values then it should be okay because ultimately, culture represent these 3 things - a set of values, a way of life and the way one perceives the world. Having said that, my Mum was married to my late dad for 40 years and I've never been married so I'm sure experience counts for something. At the same time, I personally don't think it's fair to say Western or Caucasian men are more likely to be irresponsible because it all boils down to upbringing and family values. Any man regardless of race, culture or religion can be capable of terrible things if he wasn't brought up right. All that matters is that he is a good practicing Muslim who sincerely believes in Islam and Allah swt's guidance.
What do you think? Why do you think people have the perception that interracial marriages are more risky and prone to failure? Which is more important to you - culture or religion? Or do they not matter at all?
I adore Maya Karin and I love her elegant style and gentle persona. I don't know the full story to why she and her husband are having marital problems but I do hope everything works out well for her, inshaAllah. As narrated by Ibn 'Umar, The Prophet, peace and blessings of Allāh be on him, said "With Allāh, the most detestable of all things permitted is divorce."
Here are some pictures from her beautiful nikah which was held in Italy and her simple yet lovely garden wedding reception in Malaysia. (Maya is an environmental ambassador who is actively involved with the WWF as a conservation activist. In the spirit of saving the environment she presented her guests with energy saving light bulbs as her wedding door gifts. Very cool and unique!)

Nikah @ Lake Como, Bellagio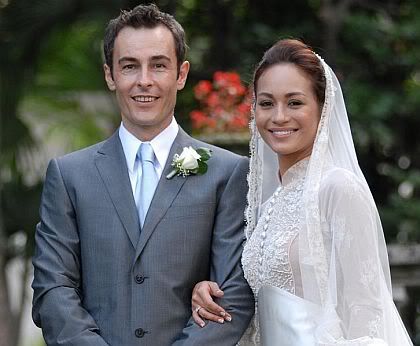 Wedding Reception @ FRIM, Kuala Lumpur
Just for fun, read
Josh Lim
's take on Dato' Sri Dr. Rais Yatim's statement about interracial marriages!