A Delicious Affair in Melbourne (Pt. 2)
I'm being a very cheeky girl today. I shouldn't be blogging but I miss it so here I am writing the sequel to my post about Melbourne. During my second day there Fairuz took me to one of her favourite cafés for breakfast - Sugardough. It's a stone's throw away from her apartment, lucky her.
Sugardough is a quirky little place with waitresses who are dressed in 60s reminiscent style complete with the red lipstick and all. Except they look a bit more eccentric with their facial piercings. One of them asked if I wanted to try their European hot chocolate drink and being me, always keen on something new, I was all up for it. Let's just say I wouldn't exactly call it a drink because it was literally as thick as chocolate syrup! I'm not saying it wasn't good but I got the feeling that I would get diabetes if I had finished it. Nevertheless, I really liked the café. The pastries were well-made and there was a different feel to the place. Ooh, they even have a secret garden at the back ;)
Fairuz took me to Brunettis as well. We didn't have time to try anything.
I had to be at the airport in 2 and a half hours!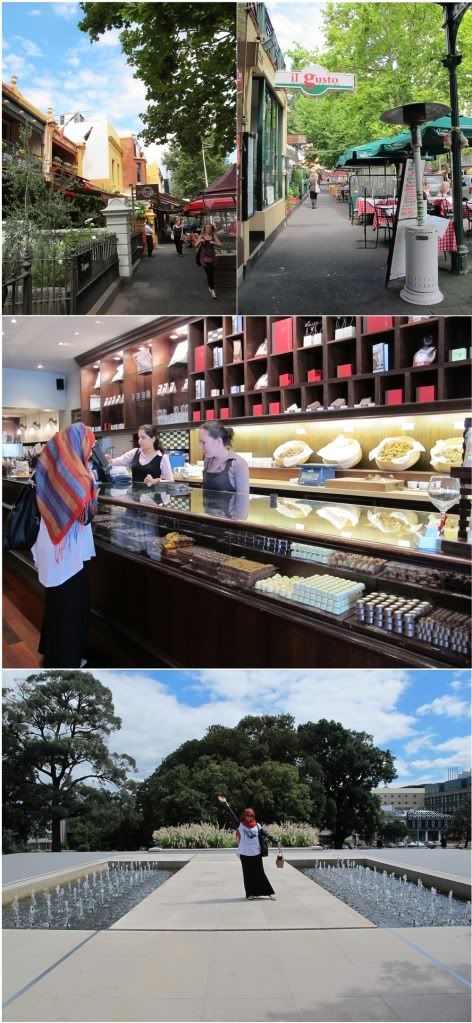 But there's always time to buy chocolates from Koko Black and to pose for pictures.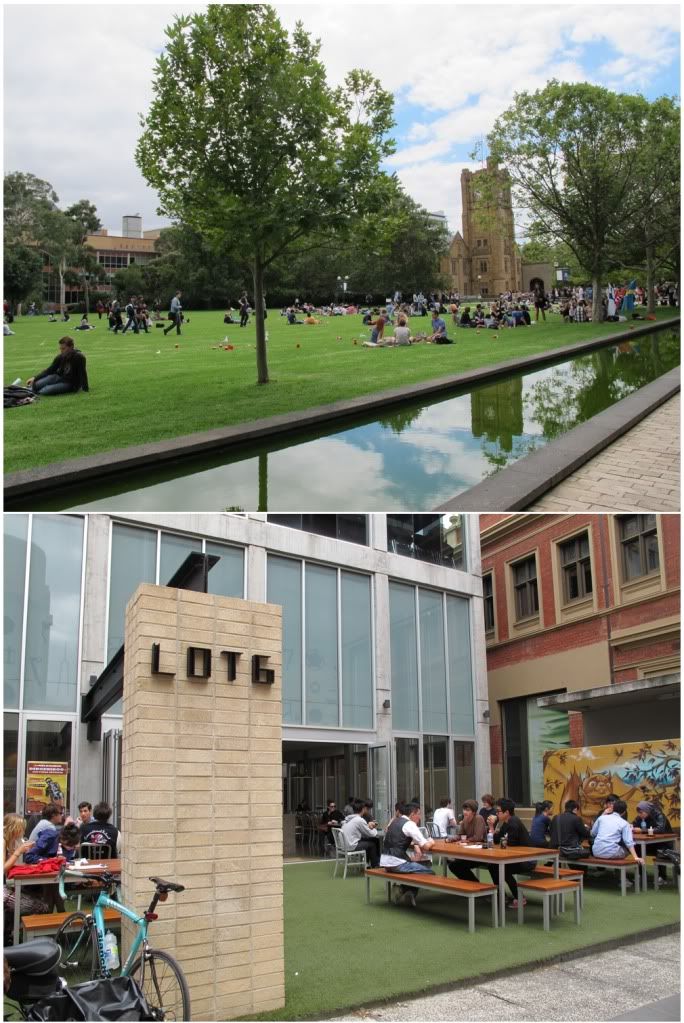 I was given a quick tour of Melbourne Uni. It was the second day of orientation I think and students were scattered everywhere. They have such a pretty campus and to be honest I am a tad jealous even though my uni's campus is beautiful as well.
I tried churros for the first time. Spanish doughnuts dipped in chocolate = mouth watering yumminess!
I was snapping pics as I walked and I didn't realise the guy with the peace sign until later on.
Not long after I was dropped off at Melbourne airport and then it was time to say bye bye! =(
What an awesome city to be in. I really do miss it and hope to visit Fairuz and her family again sometime soon. For now I should get back to my mountain of books and I'm not exaggerating. My friend saw them and said, "I think you checked out the entire library. They have no more books now." Ha ha.