"Success is Not the Result of Spontaneous Combustion. You've Got to Set Yourself on Fire for It"
The year 2009 has been a year filled with inspirations. I can feel it in my blood that I'm stronger, alhamdulillah. I owe it to those who have inspired me now and then. They are ones who have opened up my eyes and made me realise we have great potential if we are willing to believe in ourselves and work hard for what we seek in life.
The One Who Made Me Believe I Deserve to be Happy.
My late father was a happy go lucky man who loved to joke with anyone and everyone. He had this ability to strike a conversation with a complete stranger and make them laugh as though they've been friends for years. He enjoyed telling us stories about his life experiences, the people he met and the places he went. He once said to me, "I don't care what you want to do in life as long as you're happy. But work hard because you are smart and I want you to have the best". Abah always treated me like a princess. If he could he'd carry the weight of the world on his shoulders just for me. His patience inspired me to be forgiving because anger and resentment leads to sadness but when I forgive, there's space in my life and in my heart for happiness to bloom. His unconditional love made me believe in myself and the good things I deserve. My late father gave me a sense of self-worthiness no one else can even try to give me. My happiness is truly a gift from him (and Him,of course) that will last for a lifetime.
The One Who Made Communications My Passion.
One fine day I was flipping through the channels on Astro and landed on ART. A show called Parables in the Qur'an was on. At the time I was obsessed with the Arabic culture and was also rediscovering Islam so when I heard the host of the show, Moez Masoud, a young American-Egyptian guy in his mid twenties, hosting the show in English I became really excited! He spoke about Islam in a way that was logical yet so relevant to the Muslim youth of today who are usually intrigued by the illogical. It was his ability to communicate intelligence in his messages with eloquence which really inspired me. That was the moment I realised one voice can cut through the negativity which will always exist in the powerful media. It requires some intelligent content, great delivery, simplicity and sincerity. Moreover, people in general fascinate me and I would love to be someone who helps them to tell their stories. I think there's so much we can learn from each other as a society. The key is in asking the right questions. My other inspirations include John Pilger, Lisa Ling, Noam Chomsky, Bob Ellis and John Stewart just to name a few!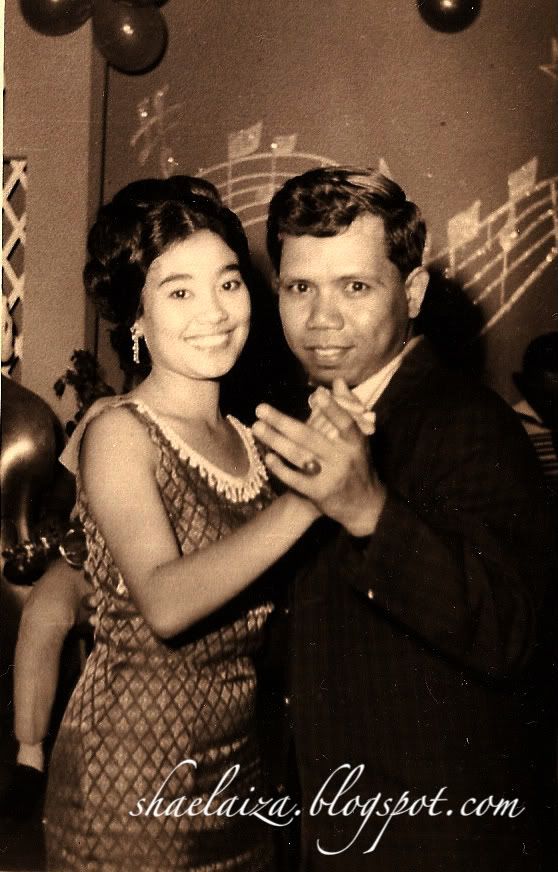 The One Who Gives Me Inner Strength.
I'm a firm believer that everything comes from the Almighty. He doesn't always give our blessings directly as He may give them through someone else. Inner strength is one of them. My mum has always been a symbol of strength for me. She works hard for her family and this wasn't just limited to the office but in everything else that she does for us at home... making sure we get good education and supporting us through our problems. Being a mum is the most challenging yet rewarding role in the world. It requires patience, a strong sense of responsibility and persistence hence watching mum sacrifice for us makes me want to become a stronger person. Apart from her, my inner strength quite simply comes from myself because I'm an emotionally independent person. I don't put my happiness in the hands of others and whenever I'm upset I pull myself back up simply because I can.
I
nner strength isn't necessarily about aggression. Gentleness, subtlety and intricacy are greater options.
"Courage doesn't always roar. Sometimes courage is the quiet voice at the end of the day saying, "I will try again tomorrow." Mary Anne Radmacher
The Ones Who Made Me Brave.
I met a guy who has the most amazing smile I've ever seen. If you're thinking 'This is a love story"... It's not. Sorry if I disappointed you! He was just luminous and it was more obvious everytime he smiled. His energy was inspiring as he is incredibly adventurous and whatever he wants he just makes it happen. He lives his life to the fullest and it's almost like he's unstoppable. I can't explain how but I just became a braver person after getting to know him and I pretty much wear my heart on my sleeve. It's liberating to be honest about how I feel and not worry as much about what others think. It's such an amazing feeling to feel like there's something new to learn from every person that I come across. Steve Jobs, although I haven't met him, has inspired me in terms of work ethics. He has always believed in his vision and he's brave enough to not accept mediocrity. He's extremely intuitive and he follows his ideas while listening to what the ordinary man has to say.
Your time is limited, so don't waste it living someone else's life. Don't be trapped by dogma - which is living with the results of other people's thinking. Don't let the noise of other's opinions drown out your own inner voice. And most important, have the courage to follow your heart and intuition. They somehow already know what you truly want to become. Everything else is secondary." Steve Jobs
The One Who Brings Out the Superwoman in Me.
Her Majesty Queen Rania Abdullah of Jordan is a queen, wife, mother of 4 children, an entrepreneur and a philanthropist who focuses on social, education and women issues. I'd love to become as dedicated as she is. Some may give her flak but there aren't many queens like her who are trying to make a difference in the world (while looking fabulous might I add!). As a royal figure she has accomplished so much according to her means. As a woman she has inspired many like myself to become passionate about family life, education, career and helping others. However I must say that I see a superwoman in almost every woman that I meet. They are all strong and dedicated and have inspired me in their own individual ways, how cool is that?
The Ones Whom I Take After.
Apparently I take a lot after my godparents. I speak and debate like my
godfather
and I am creative like my godmother. It's pretty amazing because we aren't related at all. They became my godparents after they were chosen by my parents to carry out the
upacara belah mulut
on me (also known as the Prophet's sunnah called
tahneek
). My godfather is extremely passionate about the development of the Malaysian education system. Today he is 80 years old and yet he hasn't fully retired. "If you really do take after him that means you will always be thirsty for knowledge," said my godmother. Oh I hope so! My godmother on the other hand, has an eye for all things beautiful. She loves painting, baking and collecting jewellery. She even owns a few cafes where delicious homemade food are served. To those who know me, this sounds very Sha =)
I hope these are inspirations that I take with me for life. However, vision without action is hallucination so it's also really important to put myself out there and go for what I want. I realised that before all this can begin the most crucial of all is to know what I truly want to achieve in life otherwise I'll never finish the endeavours that I start. I have my whole life ahead of me and I hope I find new inspirations each and everyday to be thankful for all He has planned for me.
It's really interesting to find out who inspires others.... think about it, who inspires you?