Usbu Al Zainab a.k.a. Zainab's Fingers
I promised to put up this recipe last week, can't believe time went by that fast! Anyway this is the easiest Arabic snack-slash-dessert anyone could possibly make. When making Usbu El Zainab (Zainab's fingers) be prepared to make a lot otherwise they will be gone in a matter of seconds, especially if your family loves cheese like mine does.
I found out that there's
another dessert
called Zainab's fingers but it's completely different. This one here was introduced to me by my Omani friends who usually serve this during iftar at the mosque. I fell in love with it instantly! I made it recently and don't be deceived by the method list because it's extremely easy. I used
this
recipe as a reference. However, it is a little time consuming because of all the rolling and sealing but it serves as the perfect opportunity to invite a friend over and catch up while making them together (and then eat them together too!)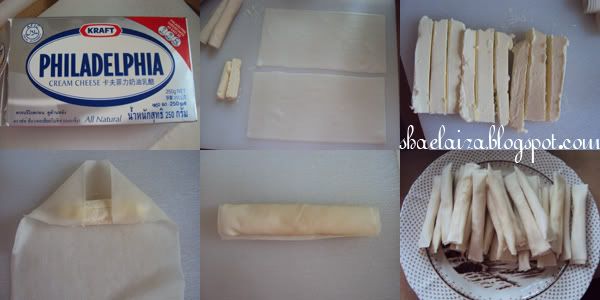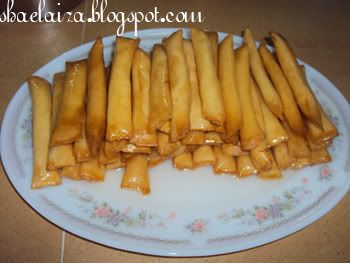 Ingredients
Cream cheese rolls (48 pieces):
1 packet of samosa/spring roll pastry, thawed (the one I bought contained 24 pieces)
1 box of Philadelphia cream cheese
Oil for deep frying
Flour sealant:
2 tablespoons all purpose flour
4 tablespoons water
Sugar syrup (for 48 pieces):
1/2 cup sugar
1/2 cup water
3 crushed cardamom seeds (optional)
1 tablespoon lemon/lime juice
Method
1. Make the flour sealant by mixing the flour and water until you get a thick, creamy paste. It prevents the cheese from leaking out of the pastry when deep frying. Keep aside.
2. Cut the Philadelphia cheese block into pieces that are sized 1 cm x 5 cm. The cheese tends to melt very fast and become very soft in countries with a warm climate. I suggest you do this bit by bit by cutting then keeping the cheese block inside the fridge again. This will prevent the whole block from becoming too soft and turning into a mess.
3. Cut the square pastry sheet in half. If you're planning to make a lot just cut the entire stack of pastry in half and it will save you some time.
4. Place a piece of the Philadelphia cheese onto the pastry. Leave 1 cm at the top. Fold and roll it until it becomes an entire roll.
5. Seal the sides with the flour sealant. Repeat the above steps until you have the desired number of cheese rolls.
6. Put some oil into a pan and let it heat for a while. Then deep fry the cheese rolls until they turn golden brown on both sides. Pick them up with a pair of tongs to prevent yourself from getting burnt and place them on a flat plate. You can drain the oil by using a paper towel (for the weight conscious, but aren't we all?).
7. To make the syrup, boil the water and sugar on low - medium heat until it becomes slightly thick. Add the lemon/lime juice and the cardamom seeds and continuing the simmering for 1-2 minutes. Then remove the cardamom seeds and your sugar syrup is ready!
8. Dip the cheese rolls into the sugar syrup to ensure that every roll is well covered. You can pour it on top if you want to save time but it won't be as delicious.... or you can pour the remaining syrup after you've dipped them.
9. And voila, you have a stack of irresistable and cripsy Zainab's fingers all ready for consumption!
In my experience this is definitely a crowd-pleaser. My brother's in laws came over for dinner and they couldn't stop eating them! It was a good thing I made heaps. And it's true, they stay very crispy for a long time. Towards the end of the night my brother's mother-in-law approached me with a notebook and pen then said, "Shahirah, can I please have the recipe for the Usbu El Zainab? I really, really enjoyed them." So I thought I'd share the recipe with you guys as well. Happy trying and bon appétit!